Natural stone is a very popular material choice for a range of applications in home design and architecture. Quartz, limestone, granite and onyx are just some of the commonly used natural stones, but the most popular is marble.
Despite its luxurious look and sophisticated aesthetic, this durable and functional stone can be used throughout the home for kitchens, stairs, floors and, of course, bathrooms. There is another application that has become increasingly popular in recent years: marble baths. There are many benefits to bathing in marble, and some of them are actually quite surprising!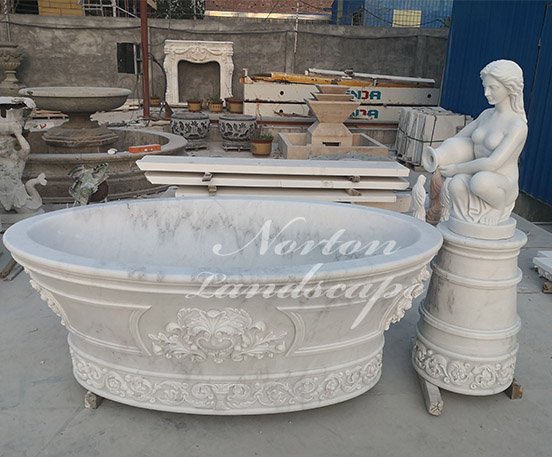 Durability
With its classic white and textured style, marble exudes style and sophistication. A marble bathtub looks almost like a jewel in your bathroom, so you can assume that a marble bathtub is a sophisticated one. Marble is naturally a very strong and durable material, and with proper maintenance and some simple, easy cleaning, your marble bathtub will last forever.
Aesthetics of luxury
Let's start with the obvious. Royal palaces and opulent mansions used marble at every opportunity, and for good reason. Marble brings a purity and elegance that most other building materials, even other natural stones, cannot match. As a bathtub, marble is charming and can be used as a signature feature piece or elegantly designed to blend seamlessly with the rest of the bathroom decor.
Easy to maintain
Taking good care of your bathtub shouldn't cause headaches. Somewhat surprisingly, marble bathtubs don't require a rigorous cleaning regimen to stay in good condition. All you need is a clean, damp cloth. Just a light wipe at regular intervals is all you need to keep your tub looking clean and tidy.
More intense cleaning options are available for occasional applications. While strong acidic chemical cleaners can damage marble, your marble tub will be suitable for use with a neutral pH cleaner.
Non-slip
Bathtubs, showers and bathrooms can often get very wet, which obviously poses a safety issue. For the same reason, you may be instinctively concerned about the sheer and smoothness of marble.
The surprising benefit of marble bathtubs is that they can also offer non-slip solutions, customized for your application. You don't have to sacrifice your love of marble in order to find a practical and safe bathtub.
Color Options
This may come as a surprise to some, but one of the many benefits of marble stone is the diversity of style options.
Marble comes in rich blue-grays, as well as red-white blends of red marble, and exquisite gold marble! And we haven't even mentioned the other white, pink, green, gray, black and blue marbles! With the wide variety of marble styles and colors available, your options are essentially limitless.
Custom Molds
Marble, like other natural stones, is quarried from the ground and cut into slabs. From these large slabs, the shape and form of the kitchen countertop or floor tile is cut. Whether you prefer a purely square tub or prefer a soft, round tub design, marble works for both and looks sophisticated in either application.
Budget Options
Like other natural stones, marble is available at a variety of price points, depending on the specific stone, slab and availability. That said, marble is considered one of the more expensive materials to use for bathtubs, but for good reason: it's very beautiful, very high quality, and durable.
However, if you like the beauty of marble (and who could blame you) but need a more affordable option, a marble-coated tub (rather than a single piece molded into the shape of a tub) may be worth considering.
If you'd like to learn more about marble bathtubs or any other home application, our team is waiting and willing to help!