Bronze sculptures are one of the most common sculptures we see. These bronze sculptures can be made into Animal Sculptures, celebrity sculptures, and even fountain sculptures. Why is bronze used in sculpture? It actually has a lot to do with the physical properties of bronze.

Bronze products have actually been around for a long time. Throughout history, bronze has been an important metal material for people to make tools, weapons and sculptures. It is very durable and very popular.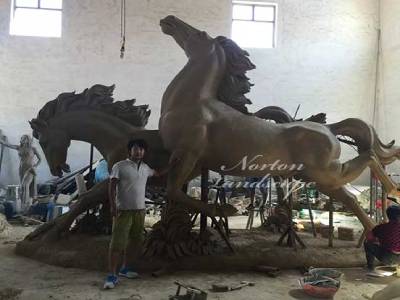 Bronze Sculptures
What is bronze?
Current bronze is made up of two main materials, which are copper and tin. Of course there are other kinds of bronze, such as brass, purple copper, white copper and so on. Different types of bronze are suitable for casting different kinds of sculptures. For example, inexpensive brass is suitable for casting large sculptures, while high purity copper is suitable for casting some delicate sculptures.
Due to its unique physical properties, copper is very strong, wear-resistant and will not rust. Sculptures are often placed outdoors, so weather and corrosion resistance is one of the important factors in the selection of sculpture materials.
Bronze Sculptures are cast using the traditional lost wax method. The sculpture produced is hollow, and copper has a relatively low melting point and good fluidity. It is easy to cast the desired shape. It has the highest cost performance compared to other types of materials.
We have a wide range of bronze sculptures for you to choose from, or you can choose a Custom Sculpture and we will provide you with the highest quality and the lowest price.